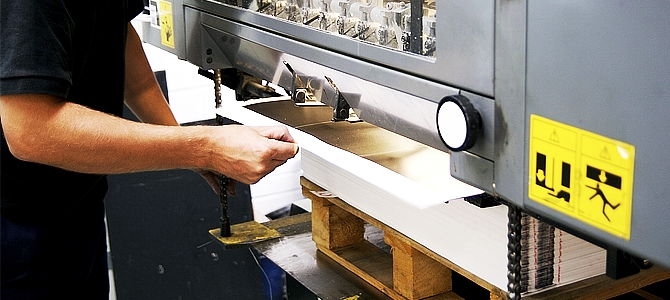 I often get asked my opinion about the 'printing' industry, and whether print is becoming a redundant platform for communication. The simple answer; is no!

Yes, it is an ever evolving industry as more businesses realign their budgets to make the most of digital communications, but there simply isn't a better showcase for for anyone to promote their company, than an intelligently designed, beautifully printed piece of literature.
It always leaves me thinking about how much printing means to me, a creative designer…Now then, where to start…
That's the thing with printing, so many different elements come together to produce the finished product, I could write a whole article about each one, which, in time no doubt I will, but thats for another occasion – this is meant to be about what 'printing' (as a whole) means to me.
Most people do not understand the complexity of lithographic, or to an extent, digital print either. For those who know very little about the printing process; It is not a case of just clicking File, Print!
I will start my viewpoint from the 'creative' in me. Print is the most original platform for any graphic designer to showcase their creativity and skill set. It is literally, the third dimension to add when designing any project. In a saturated industry of average graphic designers, one skill set that many do not consider, is the role printing, and its infinitive possibilities, can have in making the printed product a million times better, and more value and originality than just another piece of marketing collateral.
Too many graphic designers only have one dimension in mind, they only design and think about what they see on screen. One thing that any designer should do, or have the ability to do, is 'think outside the box'. How can this be achieved if the casing of the computer monitor cannot be broken!
I started my career as an advertising designer. Every advert, although the designs change, only have one difference; the dimensions. When I moved into the printing industry, I was like a child in a playground, I was excited by how I could incorporate all of the print capabilities to change the way I design. Different Inks, special finishes, endless varieties of paper, creating bespoke folds, existing folds, different binding and closure structures. Learning to bring all of these extra elements into your design doesn't happen over night, like anything, you have to experiment, practice and perfect this skill set. But the outcomes that can be achieve are worth it.
Many years ago when i passed my driving test the instructor said to me "Congratulations, now that you have passed your test, you will can really learn how to drive". I think this applies to design and print – When a graphic designer has studied, understood and experienced being part of a printing company, then he will really learn how to design…
It's only a brief summary about what printing, as a designer means to me; what does it mean to you and your industry? I must to sign off here – It would be great to read some of your opinions, so feel free to leave them below.
If you would like to arrange to see some of our expertly designed printed materials, or to discuss your next printed project, or other creative projects, get in touch for a free, no obligation consultation.